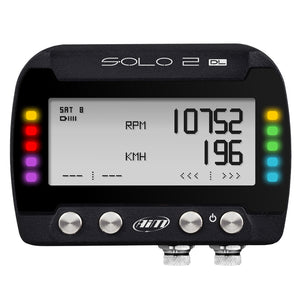 AiM Solo 2 DL: The Gold Standard GPS lap timer & data logger for motorsports

Solo DL 2 features all the functions of Solo 2, plus the ability to connect to your motorcycle's ECU: this makes the Solo DL 2 a powerful dash logger recording all the important data coming from the vehicle Engine Control Unit. Additional sensors and complicated wiring are not required anymore.


Solo DL 2 comes standard with your choice of an OBDII connector for stock ECU's equipped with an OBDII diagnostic port, or with a unterminated CAN/RS232 cable for interfacing with racing/aftermarket ECUs.
Bike-specific harnesses that allow plug-and-play connectivity with your bike's ECU are also available for an additional $20. If selected when you order, the plug-and-play harness will be included with your timer instead of the standard universal harness.
Bike-specific harnesses are only available for certain motorcycles. Please use the information below to find which cable is compatible with your bike. 
ECU Cable

Applications

BMW
DUCATI

749 (All Years)
848/EVO/EVO Corse (All Years)*
899 Panigale (All Years)
959 Panigale (All Years)
999/S/R (All Years)
1098/S/R (All Years)*
1198/S/S Corse/R Corse/SP (All Years)*
1199 Panigale/R (All Years)
1299 Panigale (All Years)
2009-2011 Hypermotard
2010-2011 Multistrada

Bikes denoted with "*" are compatible with the ECU cable only if they are factory equipped with a DDA (Ducati Data Analyzer) connector
HONDA

2003-2015 CBR600RR
2013-2015 CBR600RR w/ HRC ECU marked D11
2004-2015 CBR1000RR
2014-2015 CBR1000RR HRC

KAWASAKI
OBDII

2006-2017 Triumph Daytona 675/R
2007-2012 Triumph Street Triple/Speed Triple
2015+ Yamaha R3 non-ABS (requires cutting the AiM harness and splicing K-Line wire to bike, call for details)

CAN/RS232

2018+ Ducati Panigale V4
2017+ Honda CBR1000RR/SP/SP2/HRC
2013+ Kawasaki Ninja ZX-6R (636)
2018+ Yamaha R3 ABS

SUZUKI

2006-2019 GSX-R600/750
2005-2019 GSX-R1000/R
2008-2015 Hayabusa

YAMAHA-1

2004-2008 YZF-R1
2006-2016 YZF-R6

Includes YEC ECU's
YAMAHA-2
Includes YEC ECU's
YAMAHA-3
Includes YEC ECU's
YAMAHA-4

2015+ YZF-R1/M
2017+ YZF-R6

Includes YEC ECU's
The most precise and easy way to get lap times
The new Solo 2 receives the data from two satellites constellations, GPS and Glonass: this is a huge step forward since it is unbelievably faster and more precise than the previous version. 
The power ON requires only a few seconds and the lap times are calculated with a max 2/100 sec of tolerance.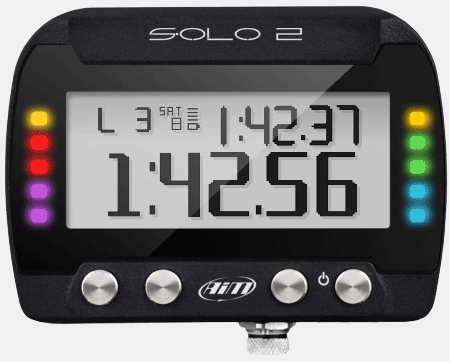 The screen can be backlit in seven different colors
Find your track easily and quickly
Solo 2 can rely on a database of more than 3,000 tracks all over the world: as soon as it switches on, Solo 2 identifies its position, recognizes the starting line coordinates of the track and starts sampling lap times.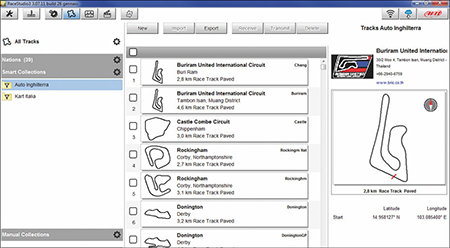 In case the track is not in the database, no problem: Solo 2 realizes it and enters into the auto-learning mode, automatically understands the characteristics of the track and gives the lap time anyway.
Predictive lap times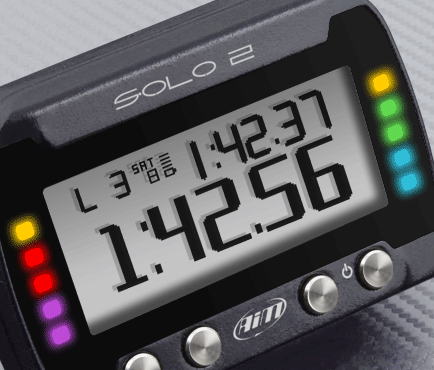 The predictive lap time function is much more reliable in the new Solo 2, and the configurable RGB LEDs will give you a clear and fast indication of the comparison with your best lap.
Race Mode Selection
Solo 2 can manage different types of races:
Speed races in a closed circuit
Point-to-point races
Regularity
Performance tests (0-60mph, etc.)
In each of these configurations, Solo 2 gives the proper information during the test and powerful data review immediately after each session.
Data recall on screen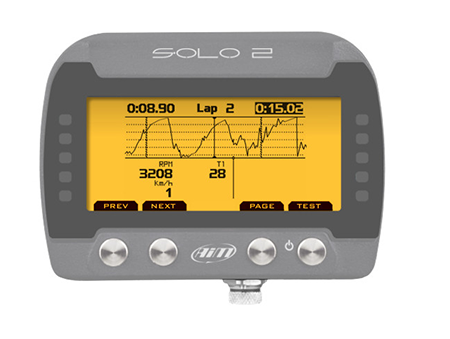 At the end of your test, you can quickly review all the key information on your display.
Wi-Fi Enabled
Wi-Fi connection: easy, fast, without connectors nor cables: the best way to configure your Solo 2, to manage the track database, to download the data to your PC.
iPhone compatible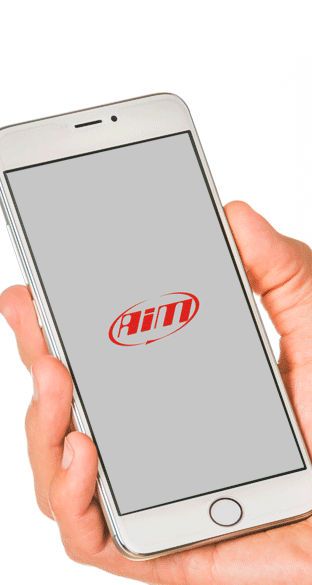 Use your iPhone for quick data analysis and for managing the track database.
ECU Connectivity
More than 1,000 protocols for 1,000+ ECU's in AiM's database
Option to build your own ECU drivers, if AiM does not have a configuration for your ECU available
Coil RPM Input: Solo 2 DL now features a digital input allowing you to log RPM either from square wave or pulse signals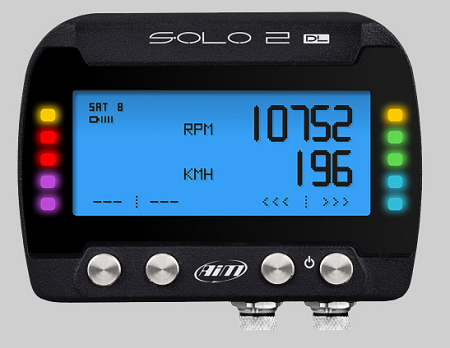 Display

Graphical

 Display resolution

128x64 pixels

 Display pages

Up to 8 freely configurable

 Backlight

7 configurable RGB colors

 Shift lights/alarm LEDs

10 configurable RGB LEDs

 Integrated track database

Yes

 Inertial platform

Internal 3 axis ±5G accelerometer + 3 axis gyro 
+ 3 axis magnetometer

 Wi-Fi connection

Yes

 GPS

10 Hz

 External power

12 V

 Memory

4 GB

 Battery type

Rechargeable Lithium

 Pushbuttons

Metallic

 Dimensions

98.0x73.7x30.2 mm

 Weight

240 g, battery included

 Waterproof

IP65

 Solo 2 DL
 
 ECU connection

CAN, RS232 or K-Line to 1,000 + industry leading ECUs