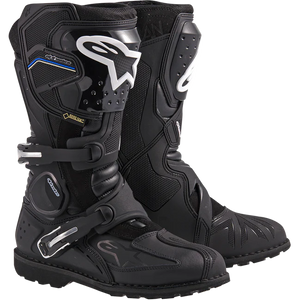 Description:

A technical and durable touring boot brimming with intelligent design features, the Alpinestars Toucan Gore-Tex Boots are ideally suited to long days in the saddle. With 100% weatherproofing provided by a GTX liner, integrated protection systems and superb comfort and flexibility features the Toucan Boots are indispensable for rugged roads. The Toucan's unique buckle design is pulled straight from Alpinestars' dirt boots and helps to shed dirt and mud while maintaining a low profile to minimize the likelihood of damage to the buckle or your bike.
Construction:
• A fully CE-certified boot incorporating full leather and suede with a 100% waterproof Gore-Tex membrane.
• Sole construction features integrated steel shank for improved comfort and durability.
Protection:
• Innovative lateral ankle protection system forms flexible link between upper boot and lower foot area for added control and support.
• Medial side structure is contoured for perfect fit and flexibility fit, with reinforced polymer sculpturing for grip and protection against bikeメs heat and impact.
• Advanced TPU protection layer covers the internal heel counter and toe box enhancing support and rigidity in key impact areas.
• Coated leather panel forms the outer surface of the toe box providing effective abrasion and weather resistance.
• Heel housed in molded external protector for increased impact dissipation and absorption.
• Contoured polymer shin guard incorporates an innovative vertical blade system for improved forward and rear control and support.
• Medial surface stamped calf suede panel improves grip and protection.
Key Features:
• Advanced instep and Achilles accordion flex zones for superior comfort, control and support.
• Wide-entry aperture for convenience with combined hard polymer and Velcro closure to allow wide range of calf fit adjustments.
• Closure system features replacable, slim, aluminum buckles for security with memory adjustments and quick-release locking system.
• Upper boot collar and inner lining constructed from breathable mesh for added comfort.
• Removable anatomically profiled EVA foam foot bed.
• Alpinestars exclusive rubber compound for the optimal combination of comfort and grip.
• Lateral side vent for added airflow.