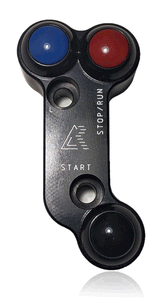 Description:
● The switch is a direct plug and play replacement for OEM ignition switch for 2017+ Suzuki GSXR-1000

● Provides unparalleled weight and space savings. Only 40 grams. Mounts as a back bracket for brake master cylinder, inline mounting bore.

● Compatible with OEM ECU. For LAP function please see our 3 button model.

● Ideal for racing and street application, to save space and weight where it matters.

● A must have if you are upgrading to an RCS Brembo master brake cylinders.

● Designed for 22 mm standard clip on handle bars.

● Main functions are ignition circuit activator / breaker and starter activation.

● Designed and CNC machined in United States from aircraft grade aluminum to be the smallest and lightest on the market.

● Premium military spec buttons with gold plated contact surfaces, manufactured in United States by Otto Engineering

Lead time 1-2 Weeks.