Arai is the only company offering multiple interior-fit shapes to better address the infinite variety of riders' head shapes and sizes.
No one pays more attention to the subtle variations and infinite possibilities of the human head shape than Arai. Why? Because it's the secret to getting the best comfort and fit.
And Arai is nothing short of obsessed with putting you into the best fitting, most comfortable helmet possible – because that´s who we are.
The Quantum-X has Arai's ROUND OVAL (RO) interior fit shape.  Shorter front-to-back and a little wider side-to-side (as compared to Intermediate Oval).*
*A Helmet needs to be tried on in order to determine a proper fit.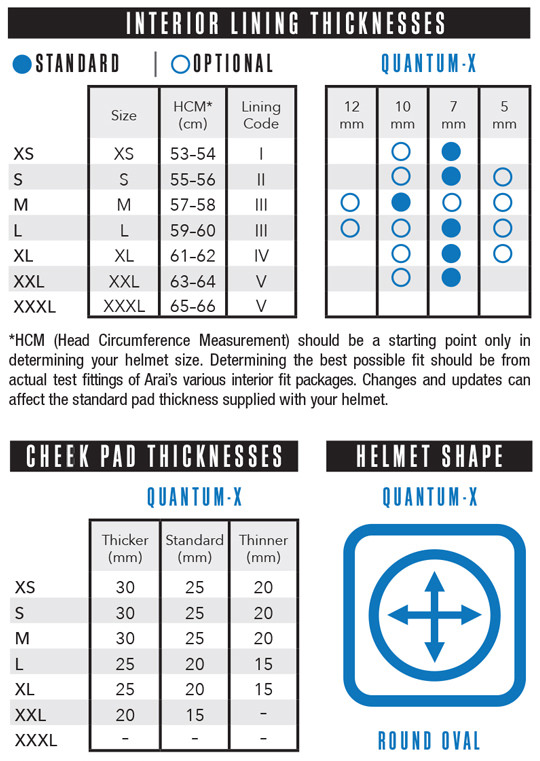 QUANTUM-X SPECS AND FEATURES
VAS SHIELD SYSTEM
The Variable Axis System shield mechanism was developed to enhance the shape of the shell, but the easy to learn changing mechanism is what most people are raving about. Quick, easy and intuitive.
IMPROVED SHIELD LATCH
The VAS latch captures and securely holds the shield closed to help prevent unexpected opening. In addition to the de-mist function, the larger latch allows for intuitive and seamless shield operation.
IMPROVED GLANCE OFF ABILITY
The VAS pivot cover is now smaller and lower than the previous design, yielding an average of 24mm more area above the cover. The shell is now smoother along the Snell test line in the temple area, thus increasing the helmet's ability to glance off objects during an impact.
Compared with the shell of the Corsair-V, the smooth area around the temple is increased by an average of 24mm on the new VAS model. Having a rounder, smoother, stronger shell to improve glance off ability.
PB-SCLC
The new Peripherally Belted - Super Complex Laminate Construction shell design combines multiple materials and techniques created internally by Arai that deliver both performance and affordability.
DUCT VENTILATION
In keeping with the "improve on what works" mentality at Arai, the new QVF & QVR upper ventilation ducts look familiar but offer more adjustment and better flow through performance.
CHINCOVER
The new water repellent ES Chincover comes installed on the Quantum-X. Enhancing the Egg Shape of the helmet, the cover smooths airflow, increases exhaust from the mouth area and reduces wind noise coming up from below. Good for both cold and warm weather riding and is easy to remove and reinstall as needed.
ODOR RESISTANT LINER
The odor resistant liner material on the Quantum-X resists the build-up of bacteria and as a result allows your helmet to stay fresher, longer, between cleanings.
VAS-MV PINLOCK ANTI-FOG LENS
The Quantum-X comes with the VAS-MV (Max Vision) shield that accepts the new VAS-MV Pinlock lens. The new Pinlock-120 lens comes with the helmet in the box and ready to install.