Arai is the only company offering multiple interior-fit shapes to better address the infinite variety of riders' head shapes and sizes.

No one pays more attention to the subtle variations and infinite possibilities of the human head shape than Arai. Why? Because it's the secret to getting the best comfort and fit.
So for more than three decades, Arai has pioneered different shapes – and even different proportions within those shapes – in our various helmet models, working to offer a better fit for more people.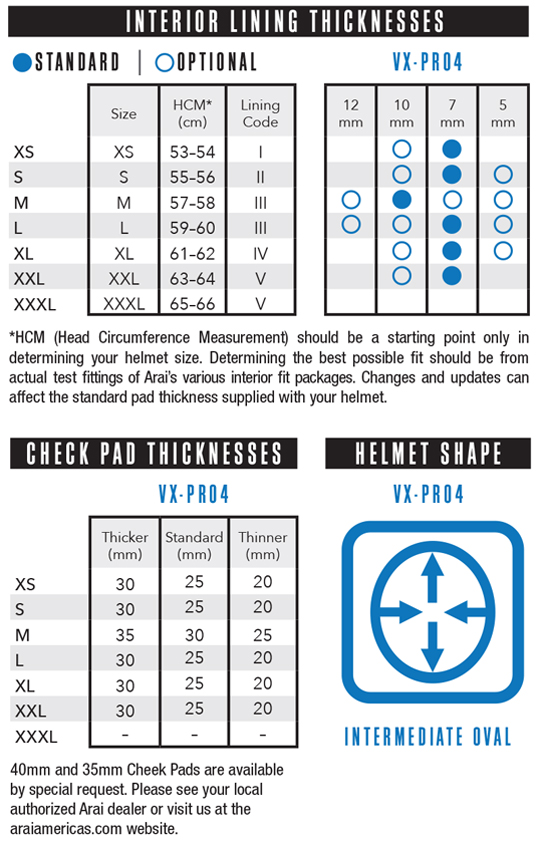 VX-PRO4 SPECS AND FEATURES
A SMOOTH INSTEAD OF RIDGED SHELL
The shell itself is consistently round and smooth, maintaining the R75 Shape concept in areas above the acknowledged test line and influencing those below the test line. Here, the rounded chin bar maintains the same compact shell length as the previous model, the VX-Pro3. The result is less protrusion, which has proven to be less likely to catch and dig in during a spill.
SHELL MATERIAL
In order to maximize performance, we precisely assemble the shell from multiple proprietary components. Super Fiber, one of the primary materials, costs up to six times more than standard fiberglass but provides 30% higher tensile strength and increased penetration resistance. The cLc (complex Laminate construction) method demands precise and time-consuming assembly by master craftsmen from many individual pieces.
CHIN BAR VENT GRILL
Installed on the uniquely rounded chin bar, the stainless mesh grill is now mounted from the outside on the exterior vent cap and can be easily removed for cleaning or damage replacement. The vent cap is also designed to break away from the chin bar in the event of impact.
REAR DUCT
The Air-Through top-rear-duct center brace also functions as a goggle-strap locator. The diffusers can be removed or replaced quickly and easily by removing a single screw on the rear-duct center brace.
GOGGLE-STRAP LOCATOR
The Goggle-Strap Locator keeps the goggle strap in position even during aggressive, competitive riding. The new top-rear-duct center brace, together with the side port cowlings, also assist in keeping the strap in position on the side and back areas.
NEW PEAK
The new peak is 14mm longer and 5mm wider than the previous model for improved ability to deflect roost and flying debris. To compensate for increased lift, the air outlets on the new peak have been made larger as well.
EMERGENCY RELEASE SYSTEM
The revised Emergency Release Cheek Pad system has the release tab repositioned and is easier to access by rescue staff.
REMOVABLE NECK ROLL
The all-new removable neck roll allows easy and convenient cleaning of the helmet.