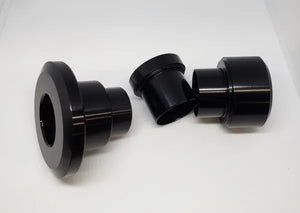 Description:
#R137
FAST FRANK RACING YAMAHA R1 15'+ OZ GASS REAR WHEEL SPACER SET
Custom Rear wheel spacer set (3 spacers total) for OZ Gass rear wheel on Yamaha R1 with stock or extended swingarm, 
these are same as the spacers we used on the 2018 Westby Racing R1 Superbike.
Spacers are designed to work much better than the spacers OZ supplies with the wheel.
With these spacers the wheel slips right in.
These will come in Black anodize finish