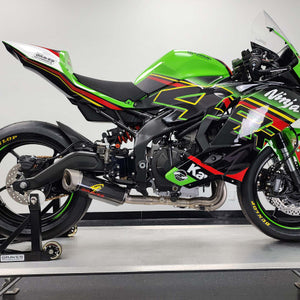 Description: 
Graves Motorsports 2023 + Kawasaki ZX-4RR Full
WORKS
 Titanium Exhaust System with carbon fiber silencer.
LOW Mount.
 G
raves Exhaust systems are designed for the elite driver seeking top of the line performance, fit, finish and value. This exhaust system was developed using the same technology that has powered the Graves Racing Team to 30 Professional AMA National Championships including 9 Superbike Championship titles and 3 Side x Side Pro Titles (Pro Stock and Pro Mod UTV). 
This product is intended for closed course competition use only. Use of this product for any other purpose is strictly prohibited. 1. "NOT LEGAL FOR SALE OR USE IN CALIFORNIA" / 2. "NOT LEGAL FOR SALE OR USE IN CALIFORNIA ON ANY POLLUTION CONTROLLED MOTOR VEHICLES" / 3. "LEGAL IN CALIFORNIA ONLY FOR RACING VEHICLES WHICH MAY NEVER BE USED, OR REGISTERED OR LICENSED FOR USE, UPON A HIGHWAY"

We did not allow compromise in the development of this system. Material diameters, lengths, the silencer core size and length are optimized for maximum power output throughout the throttle and RPM range. Combined with Graves' exclusive mapping this WORKS 2 system produces solid gains through the mid range and top end (sold separately or though a tuning shop of your choice).

We use the same 1.00 MM thick wall high heat grade Titanium tubing used on our performance Superbike exhausts. This material is designed special for maximum durability and oxidation resistance up to 800*Celsius / 1472*Fahrenheit. It is designed to live at almost twice the temperature of normal Grade2 Titanium. The tubes are precision bent and cut with the latest equipment available. The tubing is then welded in fixtures designed so that repeat-ability is second to none. It comes with a single Lambda receiver bung for on track data logging or Dyno tuning. The spring tabs are made from 4MM thick Titanium wire for long life.

The silencer is has a Titanium entrance cap and attaches to the Carbon silencer body. The silencer is hung with a carbon fiber hanger strap for the cleanest look possible. The silencer body attaches to the end caps with stainless aircraft grade rivets and Titanium silencer bands. The inter core tube is made of stainless that slips over the entrance and into the exit cap that is made of Titanium and accented with a titanium beauty cover with a 60* slash cut.


- Chuck Graves
Features:
New Diamond Shaped Can Design with tapered entrance then Carbon sleeve with Titanium end cap.
Constructed from Aerospace grade hi heat Titanium alloys
Single Lambda sensor comes standard
Advanced welding process showcases laser perfection welds
Long Tapers with Precision fitment and "butt" welds
Flanges are made from 7075 hard anodized aluminum. Built to last!
Includes Carbon hanger mount to replace passenger peg mount
Fitment:
Kawasaki ZX-4RR 2023 +