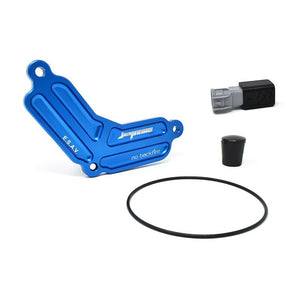 Description:
Eliminates the Air Re-circulation system on the RS 660 / Tuono 660 for better EGA readings, especially during sweep style dyno tuning.

The kit consists of a CNC machined plate that replaces the original cover, a rubber cap to close the hole in the airbox, and a specific connector to eliminate the solenoid.
The secondary air injection system (PAIR) routes fresh air from the airbox to the exhaust system in order to aid the combustion of unburned fuel in the exhaust. This system is designed to improve emissions on stock exhaust systems but will cause exhaust popping and backfiring when you fit aftermarket exhausts.
Key Features:
Eliminates exhaust popping noise on deceleration and backfiring typically associated with aftermarket exhausts
Achieves true A/F ratio for fuel tuning. A/F ratio measurements are reliable
Free up engine space
Can improve throttle response when used with full aftermarket exhaust systems
This kit enables you to remove the PAIR system completely, including the valve, the PAIR cover, and the associated tubing
High-Quality Standards:

The PAIR removal kit comes with an OEM connector for direct plug-in, no cutting or splicing is required
The rubber caps are special heat-resistant caps for high durability
The block-off plate is made by CNC machined 7075 aluminum
Plug and play product, no need to cut wires
Components that guarantee a high-quality product
Tested and developed for compatible motorcycles
FOR CLOSED COURSE COMPETITION USE ONLY. NOT INTENDED FOR STREET USE, LEGAL IN CALIFORNIA ONLY FOR RACING VEHICLES WHICH MAY NEVER BE USED, OR REGISTERED OR LICENSED FOR USE, UPON A HIGHWAY.