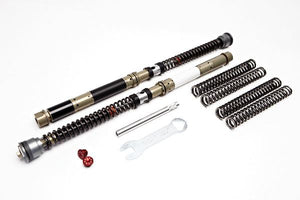 Description:
Like original OEM fork internals many aftermarket cartridges are manufactured with non-anodized aluminum and/or mild steel components. It is important to compare the K-Tech design and manufacturing philosophy which goes the extra mile utilizing all hard anodized aluminum or hard chromed steel internal components. This detail reduces contaminants that build up in the fork fluids which reduces maintenance, prolongs durability and increases consistency of performance. Typically, users are surprised to see clean oil emerge when performing scheduled fork maintenance rather than dark, contaminated oil.
K-Tech DDS (Direct Damping System) front fork cartridges are a complete replacement damping system designed and manufactured in the UK for high end racing applications. The DDS cartridge is a pressurized damping system using 20mm displacing pistons to create a high flow of oil through the 31mm control valves to give precise damping control. The patent design eliminates cavitation making the system very stable under extreme conditions, the damping circuits are designed to work independently to improve the dynamics and response time. The system is pressurized by a spring force keeping it stable under all working temperatures.

Suzuki GSX-R 1000 2012-2017 Showa BPF Forks Closed Pressurized Cartridge Design Direct Damping System 31mm Control Pistons 20mm Displacement Pistons 8mm Control Rods Includes Springs (3 Sets)
30 clicks compression adjustment

30 clicks rebound adjustment

18mm spring preload adjustment

DDS technology

8mm piston rod for reduced system displacement

20mm displacing piston for large oil flow and increased damping control

31mm control piston for increased feel and response time

Patent design to eliminate cavitation

Supplied with three pairs of springs and tools needed to change them

Wide range of spring rates available
Used at the highest levels of racing including British Superbike and Isle of Man TT
The DDS cartridges are only available through K-Tech authorized dealers who have been trained to install these products, there are specialist tools and techniques required to guarantee performance and safety of this product.