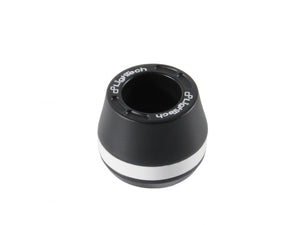 Lightech - Frame Sliders - Yamaha - STEYA213
In an innovative step to reduce crash damage LighTech introduced frame sliders with rubber shock absorbers. By combining a magnesium base plate with a soft rubber center and an external puck made of nylon mixed with fiberglass LighTech frame sliders provide excellent sliding capabilities while cushioning the blow upon impact between the frame and the ground. Magnesium also reacts better to shock, unlike standard delrin or aluminum pucks which transfer the shock from the crash directly to mounting point magnesium is softer than aluminum or delrin and therefore offers much better protection to the bike. Designed to be no-cut whenever possible, all mounting brackets are made from billet aluminum. nylon mixed with fiberglass offers the best resistance in case of crash.
LighTech's innovative design has brought frame sliders to a new generation, giving motorcyclists unprecedented protection against crash damage.