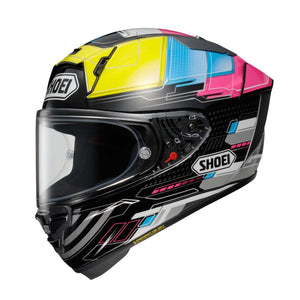 A pure racing helmet boasting optimal performance, functionality and safety, the X-Fifteen is the latest generation of SHOEI's most technologically advanced sport and competition model. The X-Series has earned the praise of the world's top racers, including 8-time World Champion Marc Marquez. Incorporating valuable data learned through years of international race wins, the X-Fifteen is a high-performance work of art that possesses incredible advancements in aerodynamics, ventilation, vision, comfort and adjustability.
Learn More
Developed utilizing rider input from the world's top racers
Refined in SHOEI's wind tunnel to achieve next-level aerodynamics and ventilation
Boasts impressive reductions in lift and drag along with enhanced high-speed stability
Improved cheek pad cooling system and increased cool-air ventilation throughout the entire helmet
Optimized eyeport trajectory for an increased upper field of vision
Independently adjustable interior components for a precision racing fit
Aerodynamic Performance
Among the most important and widely studied properties in racing, no stone was left unturned during the development of the X-Fifteen's aerodynamics. Designed and refined in SHOEI's state-of-the-art wind tunnel facility, the X-Fifteen boasts impressive improvements in all aerodynamic performance measurables.
Learn More
Refined in SHOEI's wind tunnel to yield the most streamlined and stable X-Series helmet ever
Boasts impressive reductions in drag (6.1%) and lift (1.6%) as compared to its predecessor
Bottom third of helmet (from chin bar to rear of shell) has been narrowed, and, together with updated rear stabilizer and flap designs, achieves optimal balance and stability
Pronounced edges on the top left and right sides enhance aerodynamic performance by allowing wind to stream off the helmet with minimal resistance
150+ profile shape iterations were tested and refined during the X-Fifteen's aerodynamic development
Aerodynamic optimization was achieved in numerous riding and racing positions, with an emphasis placed on high-speed stability at speeds in excess of 218 mph
Racing Shield System
The X-Fifteen's CWR-F2R racing shield system features improved visibility, functionality and performance over its predecessor, and like all SHOEI shield systems, protects against 99% of the sun's damaging UV rays. Thanks to SHOEI's innovative 3D injection-molding process, the CWR-F2R shield offers a distortion-free view throughout the entire X-Fifteen eyeport.
INCREASED UPPER FIELD OF VISION BY 5MM
RACING POSITIION
[OPTIMIZED EYEPORT TRAJECTORY]
10% LARGER PINLOCK® EVO LENS
SHIELD & BASEPLATE SYSTEM
Learn More
Protects from 99% of the sun's damaging UV rays
Distortion-free view throughout the entire X-Fifteen eyeport
"Flat" outside surface (for racing tearoffs) combined with 3D technology inside offers an aggressive look with optimized visibility
Vortex Generators on the sides of the shield improve aerodynamics and reduce wind noise
Redesigned base plate system enables smoother shield openings and closures
SHOEI's patented spring-loaded technology ensures a wind and waterproof seal
Latest generation window beading prevents wind and water intrusion when the shield is locked
TWO-STAGE SHIELD LOCKING SYSTEM
Learn More
Exclusive two-stage shield locking system features a center locking mechanism and racing shield lock
Two-stage system provides optimal protection against unexpected shield releases in the event of a fall
New trigger lock mechanism [once activated] provides additional assurance by preventing shield detachments during an impact
Center locking mechanism helps to evenly distribute shield forces across both spring-loaded base plates
Safety
Few characteristics of a motorcycle helmet are as critically important as its first and second layers of defense, which is precisely why the X-Fifteen features the SHOEI-exclusive Multi-Ply Matrix AIM+ shell and Multi-Piece, Multi-Density EPS liner.
MULTI-PLY MATRIX
AIM+ SHELL
MULTI-PIECE/MULTI-DENSITY
EPS LINER
EMERGENCY QUICK
RELEASE SYSTEM (E.Q.R.S.)
Learn More
Proprietary technology integrates a six-ply matrix
Hand-laid interwoven layers of fiberglass with lightweight organic and high-performance fibers
Provides optimal impact-absorption, strength and elasticity
Snell M2020R and ECE22.06 certified
Learn More
Provides optimized impact absorption by utilizing varying densities of foam in key areas around the head
Precise placement of multi-density EPS material yields a more compact, lightweight design
Features strategically located tunnels that allow cooling air to travel unrestricted through the helmet
Enlarged EPS tunnels (from 6mm to 10mm in depth) dramatically increase cool-air volume and the rate of hot-air expulsion
Learn More
Allows emergency medical personnel to easily and safely remove the cheek pads from an injured rider's helmet
Helmet can be gently removed from an injured rider's head with minimal load placed on his/her neck
COMFORT
The X-Fifteen is equipped with a fully removable, washable, adjustable, and replaceable 3D Max-Dry Custom Interior System II that features innovative, patented comfort and performance technology.
3D MAX-DRY CUSTOM INTERIOR SYSTEM II
Learn More
Fully removable, washable, adjustable and replaceable
Exclusive 3D Max-Dry material absorbs and dissipates sweat twice as fast as traditional nylon
Innovative cheek pad cooling system delivers refreshing air to the rider's face
Cheek pad surface area enlarged by 16.5%, giving riders a more secure and comfortable fit, especially at high speeds
Learn More
Independently adjustable 3D center pad components can be replaced with optional thicknesses for a customizable fit
All-new pocket-shaped pads have separate, removable layers that can be peeled away to further optimize a precision fit
Patented angle adjustment mechanism changes helmet position up to 4 degrees to increase upper field of vision while tucked in extreme racing positions