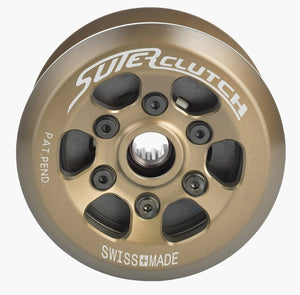 Description
Yamaha R1 2015-2018 SuterClutch is highly impressive through its fine responsiveness, the efficient inner lubrication and its easy installation. The special color of this clutch results from the hard anodized teflon coating which considerably minimizes the wear on the friction surfaces. Through its ingenious design, this clutch can be fitted without any special installation tools. The pressure plate is installed using 6 bolts, allowing easy access for maintenance.
MotoGP technology, World Superbike proven
Fully adjustable Anti-Hopping effect
Best control under braking
Easiest Installation – Special tools for installation no longer needed
The Anti-hopping effect can be adjusted for every riding style; for tuned models there is a range of harder main springs available to order. Included with delivery are all the relevant parts for installation, plus two additional Anti-hopping springs.
FITMENT: Yamaha R1 2015-2018