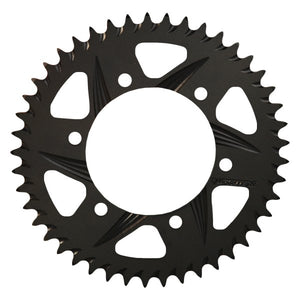 Description:
Vortex 520 F5 Rear Sprocket Yamaha R1 / R1M
Vortex has stepped into the dark side and from it, they have created the Vortex F5 Aluminum Sprocket. The F5 Sprocket is coated in an extremely durable PTFE hard-coat. This hard-coat not only looks spectacular but it also reduces wear and makes cleaning a breeze. The F5 Sprocket's aluminum construction makes it much lighter compared to an OEM steel sprocket and this leads to reduced rotating mass and allows for improved acceleration and handling. 
Vortex Sprockets are offered in 520, 525 and 530 pitches. 
Features:
PTFE black hardcoat
Lightweight 7075 T6 aluminum construction
100% CNC-machined to high tolerances
Weight-saving cutouts
Unique tooth design
Offers improved concentricity which provides a stronger, quieter and longer-lasting sprocket
Part# 654AK
Fits 2015+ Yamaha R1