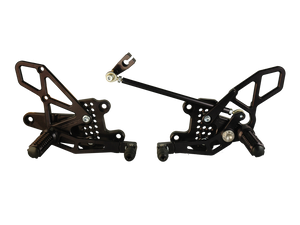 Description
V2 Design
High mount shift system allows Standard & GP shifting on models where the OEM shift arm is not reversible.
Shift rod is protected from the riders boot by an innovative design that positions it behind the heel guard.
High mount shift pedal increases ground clearance and maximum lean angle over stock position.
Removable muffler bracket for high mount exhausts.
Adjustment Range – Fwd:5mm, Back:15mm & Down:5mm, Up:25mm – 10mm increments, 12 positions.
New folding toe peg pedals are backwards compatible with older versions.
Strength-to-weight optimization engineering using finite element analysis technology.
Patented folding toe peg protects pedals from crash damage while offering .5 inch of pedal length adjustment.
Independently mounted shift and brake pedals (where possible) helps to prevent binding from a bent peg.