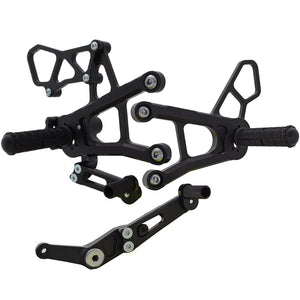 Description
The foot controls are one of the most vital connections you have with your motorcycle. As a result Woodcraft designs and builds the best Rearsets available to ensure your motorcycle reacts the way you intend it to.
CNC machined from 6061-T6 billet aluminum and offer more than twice the durability of OEM rearset brackets.
3-piece Pedals giving you an even stronger assembly and continuing our tradition of easy part replacement.
Our trick knurled footpegs give supreme feedback and the best traction available today.
Woodcraft rearset kits offer eccentric foot and toe pegs for adjustability (where applicable).
Virtually any part in our rearset kit can be purchased separately from our kits under the Spare Parts tab
Peg Movement
:  This kit has eccentric pegs that have 12 positions of adjustment ranging from 1/4" lower than stock to over an inch higher than stock.
NOTE: This complete rearset can be used in either STD or GP shift.